Wedding Photographer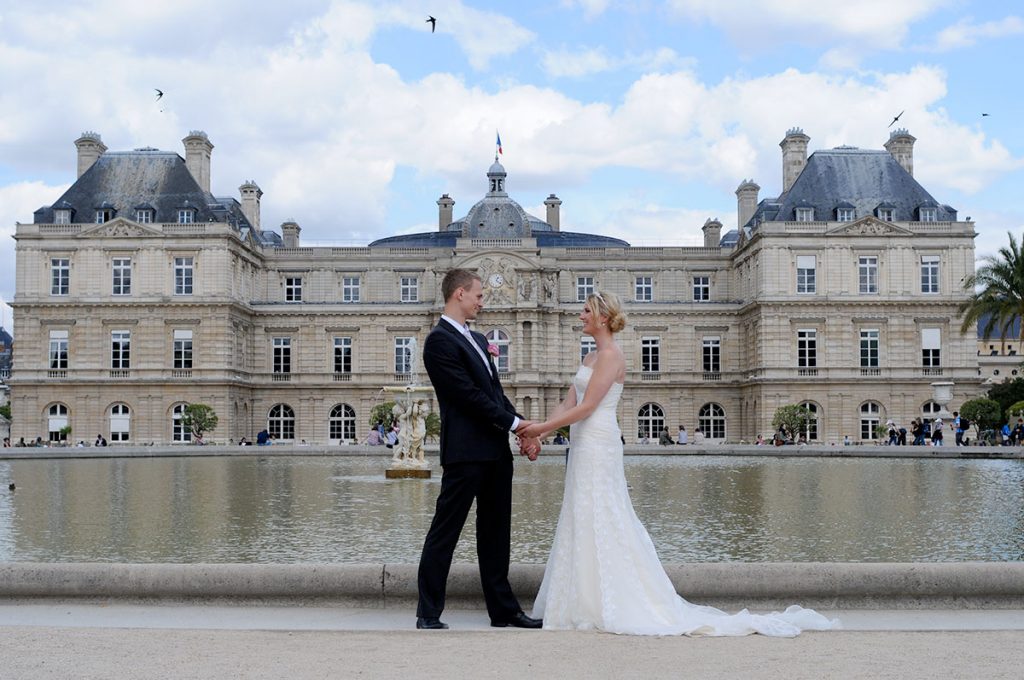 I have loved photography for as long as I can remember. As a child I enjoyed looking in our family albums, and at photos and drawings in books. As a young girl my father gave me my first photo camera, and on a trip to India, Nepal, Thailand and Malaysia when I was 23 my photographic passion was born. I exposed my photos back home in Norway and started working as a freelance photographer for newspapers beside my studies in French Literature. Since then my path was clear and I have never regretted it since! As a photographer I meet fabulous people, share unforgettable moments of their lives, and I am happy to steal their moments of love, in Paris, with my camera. Sometimes I feel I am in a romantic Woody Allen film from Paris, as magical things really happen under our photo session, and the parisian citizens also share their happiness with the couple, and wish them all the best! And when we think that a photography stills time in an image, I find it amazing, and I enjoy sharing this passion with my Lovebirds and give them romantic images that they will treasure forever!
As a photographer in Paris I have specialized in amorous photography, as I enjoy very much taking photos of couples in love. I think I am a little over the normal sensitive person, a « fleur bleue » ( a « blue flower »as we say in France) and if you put a « fleur bleue » into the city of Love and you give her a camera, then you will get Lovebirds in Paris!
It started 20 years ago, when Sissel, a friend of mine, wanted me to cover her wedding in Paris. I enjoyed this experience so much that I left my visit card in the Norwegian Embassy's reception, and since then I have never stopped! Today, I photograph weddings for couples from all over the world in Paris, and all over France.
I really like to get to know my Lovebirds, as I like to call my couples flying in to Paris, from all over the world, to celebrate their love. If you would like me to photograph your wedding I will ask you some questions so that we can get to know each other a little and so that I will get an idea about what kind of wedding photos will make you happy. I will help you to make a personally adapted wedding shooting plan, with locations that you will like a lot.
On the wedding day I will show you charming, often hidden places of Paris, and I will let you live out your wedding day together, as I will take a step back and photograph you with my zoom. The photo sessions are warm, filled with life and laughter, a moment that my Lovebirds look back upon with happiness.
My photographic style is somewhere in between editorial-style wedding photography and cinematic documentary style, a kind of Creative Wedding Reportage. This means that I like things to happen naturally, not so posed, outdoors in Paris, with its beautiful light. I am also very fond of taking photos by the Seine river, with its small Islands Ile St Louis and Ile de la Cité, its riverboats and romantic bridges… I also like to shoot my Lovebirds in the parisian parcs, that changes beautifully from season to season. The parisian cafés with their terrasses and passing people are also perfect locations for wedding photos. I also find great inspiration on the highest natural hilltop in Paris, Montmartre, and its Sacré Coeur church and incredible view over Paris, romantic stairways, small streets, charming cafés and artistic people. And I can go on and on… as I love Paris! And I can assure you that I will do my very best to create romantic images you will treasure forever!
If you would like me to cover your wedding day, do get in touch as soon as you have the date.
I am available for weddings in France and internationally. Your package will be created just for you two, à la carte, ensuring an excellent, joyful, stylish and memorable experience.
Wedding commissions starts from 1200€ for Lovebirds Half Day, 2400€ for Lovebirds Full Day and 4600€ for Lovebirds Full Day Luxe.
Please do contact me for more details!